Yesterday was our last day in New Orleans.
Sara and Anne were leaving 4 hours apart so while I took Sara to the airport, Jeannie and Anne were able to take a streetcar through the Garden District.
After we dropped Anne off at the airport, Jeannie and I headed toward Baton Rouge. We took River Road so that we could see two more plantations that we'd heard about.
The first was the San Francisco Plantation.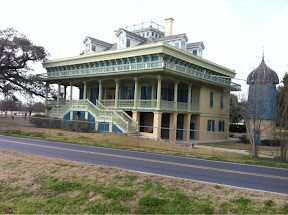 The original owner of this place was an old steamboat captain so he designed the place to look like an old steamboat.
We continued on up the winding River Road and stumbled across something called the Manresa Retreat.
It threw me when I first saw it. It looked like a white city surrounded by oak trees. There were about a dozen large white buildings nestled next to the road. It looked very out of place.
I discovered that it was formally a Catholic college and has now been turned into a catholic retreat for men.
Further down the road we finally found Houmas House Plantation.
It was Jeannie's favorite. Brightly decorated with an amazing garden, it was a nice way for us to finish our plantation tour.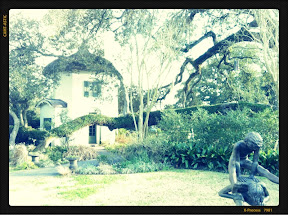 We hadn't planned on visiting all these plantations. It just sort of happened. We saw one and just kept pulling over every time we saw another one that looked interesting.
From there we headed to Baton Rouge for the night. Even though I hated both teams, I still wanted to see the Superbowl.
Now we're packed up and headed back to San Antonio. It was a great trip.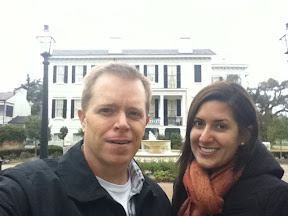 - Posted using BlogPress from my iPhone