On Monday Jeannie and I had lunch at one of our favorite places in all of Chicago,...
Harry Caray's.
Afterward, I did a workshop with Clemson University's Mock Turtle Soup.
They're a lot of fun. They come up to Chicago every spring during spring break to watch improv and take classes. I've been honored to teach workshops for them for the past 3 or 4 years. They're great. I really like them a lot.
On Tuesday, Brett, Adal, Jason, Jeannie and I met at Glenn's Diner, restaurant around the corner from my sublet.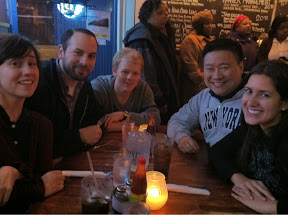 We enjoyed some fantastic crab legs at their "Tuesday night you can eat crab legs" night.
On Thursday I met up with Dana and Megan to help them with a new show their putting together.
Afterward, they took me out to lunch.
On Friday I got new headshots taken by Rance from the illustrious Rance Rizzutto Photography studios. Afterward, he took Jeannie and I on a treasure hunt. They looked really funny using the gps on their phones looking for the treasure.
The great part of doing gps treasure hunting is that it takes you to parts of the city that you've never seen before and gives you a little history about the place. Look at how cool this place is.
We start rehearsals tomorrow for our new contract. If you don't know by now, Jeannie and I are headed back to the Pride of America in two weeks. We'll be cruising Hawaii again until the end of August. Hooray!
- Posted using BlogPress from my iPhone
Location:N Wolcott Ave,Chicago,United States