Jeannie and I went to Easter services in Maui.
What's different about Hawaiian Easter?
Well, for one, there's a Hula Dance in church on Easter.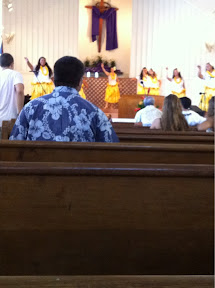 The other main difference is that everyone's Easter candy melts a lot faster here. The kids in front of us had chocolate all over their Easter clothes way before we even got to the offering.
Afterward Jeannie and I went to have dinner at this sushi place everyone on the ship's been telling us about for the past 3 years. They serve 1/2 price sushi everyday from noon to 2pm and then again from 9pm to 1am.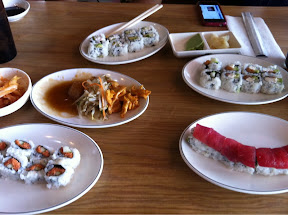 How was it?
Well, it tasted like a place that would have 1/2 price sushi.
There's a new initiative that's taking place in Hawaii that's driving me crazy. It's mainly only being enforced in Kauai.
No shopping bags! They refuse to give you any bags for anything!
It's sooooooo annoying. It's also frustrating because they get so snippy when you ask for a bag.
So, here I am, headed back to the ship without anything holding my snacks.
Preposterous!
- Posted using BlogPress from my iPhone